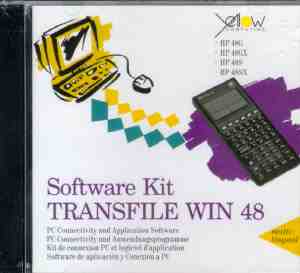 | | |
| --- | --- |
| Product | Transfile Win 48 Software CD |
| Manufacturer | Yellow Computing |
| MPN (Manufacturer Part Number) | YC48CD |
| GTIN/UPC/ISBN | |
| MSRP | $34.99 |
| | |
| --- | --- |
| Sku: | YC48CD |
| Condition: | New |
| Our Price: | $24.99 |
| Clearance: | $9.99 |
| Weight: | 0.1 /lbs. |
| Availability: | In Stock (1-2 business days) |
For shipping quotes add items to your cart and go to checkout.
Sell this item back to us. Request a quote.
Need something else? We can find it for you. Contact us about sourcing a product.
System requirements
Windows 3.1, Windows 95, Windows 98, Windows NT 4.0, Windows XP, Windows 2000
min. CPU 486/33 with 8 MB RAM,
VGA with 256 colors
Sound card recommended
To install under windows XP or 2000 ignore any warnings and follow these instructions:
Insert the CD Rom into the CD Drive and ignore any errors.
Go and Browse the CD Rom. The way you do this is by Right Click on My Computer and then selecting the option Explore.
Once in the browse windows, you will see that your CD-Rom Drive says CDHP48_2; this is on the left side of your browse windows. Click on it and you will see many folders.
Now, look for the folder called TFWIN48 and double-click on it.
Once in the TFWIN48 folder, double-click on the folder called INST.E; this stands for INSTallation in English.
In the INST.E folder, double-click on the SETUP.EXE file and follow the on-screen help to install the software.
That's it, now you can start transferring files between your HP calculator and your computer.