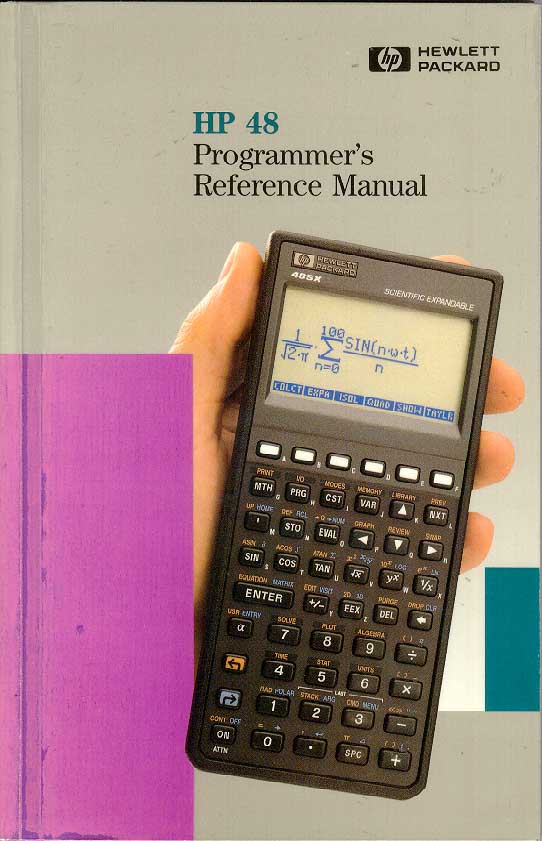 | | |
| --- | --- |
| Product | HP48 Programmer's Reference Manual |
| Manufacturer | Hewlett Packard |
| MPN (Manufacturer Part Number) | 00048-90053 |
| GTIN/UPC/ISBN | |
| MSRP | $39.99 |
| | |
| --- | --- |
| Sku: | 0004890053U |
| Condition: | Used - Very Good |
| Our Price: | $39.99 |
| Weight: | 2 /lbs. |
| Availability: | 3 to 5 business days |
For shipping quotes add items to your cart and go to checkout.
Sell this item back to us. Request a quote.
Need something else? We can find it for you. Contact us about sourcing a product.
This manual contains concise reference information for the HP48: a brief, alphabetical listing for each programmable keyword, and tables of error messages, units, flags, and reserved variables.

The HP48 Owner's Manual, on the other hand, contains conceptual, descriptive information, organized by subject area and menu.

This reference manual consists of the following:


Command Dictionary: the main part of the manual. Organized alphabetically by command, it summarizes each programmable operation. The syntax appears in a stack diagram that shows what each keyword requires as argument and returns as results.
Table of Error and Status Messages (appendix A): an alphabetical listing of error and status messages.
Table of units (appendix B): definitions of the types of units available in the HP48.
Reserved Variables (appendix D): lists the reserved variables and their contents.